Books from Social Policy Press
Use Paypal link below or to the right to order Building Bridges: Community and University Partnerships in East St. Louis, Red Nose Mike (paperback copy), Campaigns: Lessons from the Field, Nuts & Bolts, Building Power, Global Grassroots, The Battle for the Ninth, Lessons from the Field:  direct from Social Policy Press.  View shopping cart to add multiple books or quantities. Use the embedded PDF links to download Guns & Kids and the PDF version of Red Nose Mike. Supports social justice & independent publishing.  Email publisher@socialpolicy.org for information on large bulk orders.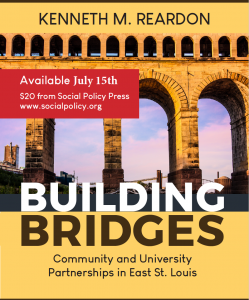 Professor Kenneth Reardon in Building Bridges tells the 10-year saga of building partnerships between a university in Illinois and various community groups in East St. Louis, which transformed their neighborhoods and the lives of students and participants against all obstacles.
Reviews
International Journal of Research on Service-Learning & Community Engagement
Building Bridges – Review 11 JAN 2019
If you want to build effective partnerships between academia and community, you need Building Bridges: Community and University Partnerships in East St. Louis. Paperback is $24 (includes shipping).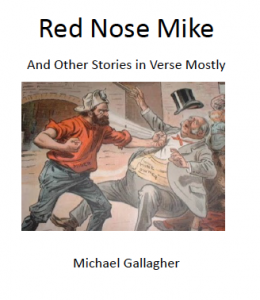 Red Nose Mike And Other Stories in Verse Mostly
"Three weeks into the exhausting strike, the union hall was packed.
Hundreds of home care workers hoping to win all the things their jobs lacked
— Like decent wages, any sort of benefits but most of all, dignity and respect —
Together now to battle the employer's disregard and not so benign neglect."
Mike Gallagher was born and raised in Wilkes-Barre, PA in the heart of what was once anthracite coal country. He attended Catholic elementary school and Jesuit high school in Scranton, Holy Cross College, and University of Massachusetts, Amherst.
Now retired (mostly), he worked for many years for community organizations, including the Contract Buyers League in Chicago and Massachusetts Fair Share, and as a union organizer for an independent union called United Labor Unions, the Service Employees International Union and the national AFL-CIO in Boston, New Orleans, Philadelphia, Chicago, Los Angeles and all over the Midwest and deep South.
Proceeds from Red Nose Mike go to support community organizing. Paperback is $13 (includes shipping). or Buy a PDF Digital Download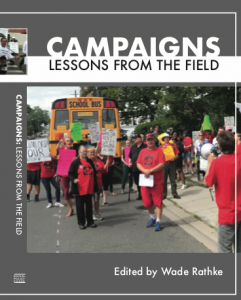 Campaigns: Lessons from the Field outlines how issue-based
campaigns build peoples' power and deliver victories, with sections on Jobs, Income, Health, Housing, Rights and Safety, Taxes and City Services, Land and Resources, and Development.
Essays include contributions from Nik Belanger, Lew Finfer, Mike Miller, Drew Astolfi, Claire Gallagher, Bill Pastreich, Steven Kest, Judy Duncan, LeeAnn Hall, Zach Polett, John Anderson, Marva Burnet, Davin Cardenas, Adrien Roux, Randy Shaw, Dine' Butler, David Tozzo, Beth Butler, Ruth Rinehart, Joe Szakos, Emily Bloch, Nick Ballard, Anny Cullum, Robert Fisher, Fred Brooks, Daniel Russell, Eloise Maulet, Dominic Moulden, Gregory Squires, Randy Cunningham, Darcy Pumphrey, Kenneth Reardon, Antonio Raciti, and Wade Rathke, who also served as editor for the volume.
If you want to move an issue to a solution, you need a campaign and Campaigns: Lessons from the Field details the way it is done by community organizers and community organizations every day working in field. Paperback $19 (includes shipping).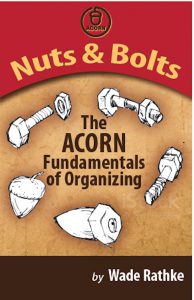 Nuts & Bolts: The ACORN Fundamentals of Organizing  Wade Rathke shares almost 50 years of organizing experience with a look at the "nuts and bolts" of how ACORN was organized and able to build a mass membership and major victories in the United States, Canada, and around the world in plain language that can inform organizers, leaders, activists, and policy makers about how to change and build power. Paperback $39 (includes shipping) or  Kindle Version
Guns & Kids: Can we Survive the Carnage? PDF Digital Download
This eBook explores the relationship between guns and kids. And it reveals disturbing facts. For example, the firearm fatality rate in the U.S. among children under 15 years old is nearly twelve times higher than in 25 other industrialized countries—combined. Over 75% of these killings are unintentional. Fatalities are not the only gunshot-related consequences that befall American youth. More than 20,000 children go to emergency rooms with gun injures every year. Statistical data, however startling, cannot adequately convey the experience of child gun violence. Many of the kids who are suffering and dying from gunshot wounds are innocent, with no idea of what has happened to them. Those surviving are often emotionally damaged—permanently. Wounds that never heal.
Kindle Version
Wade Rathke Interviews author of Guns & Kids, Frank Strier on Wade's World on KABF.
Smart guns are a smart choice by Frank Strier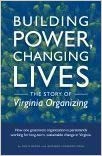 Building Power, Changing Lives: The Story of Virginia Organizing. What does it take to build a successful, diverse, powerful grassroots organization in a state that once housed the Capitol of the Confederacy? Virginia Organizing has been working for 20 years to build power and create change all across the state of Virginia—starting in the farthest region from Richmond to empower directly affected people whose voices are often drowned out by systemic oppression and traditional political power structures. From a local campaign in 1998 to diversify an all-white jury pool in Lee County to Virginia Organizing leaders being arrested for immigration reform in Washington, D.C. in 2014, Building Power, Changing Lives: The Story of Virginia Organizing tells the story of how one growing organization is persistently working for long-term, sustainable change in Virginia. Ruth Berta and Amanda Leonard Pohl. Published 2015.  Please listen to this interview with  Joe Szakos from Virgina Organizing Project from Wade's World on Jan 8th, 2016 at KABF.org to learn more about their great work.  $19 (includes shipping)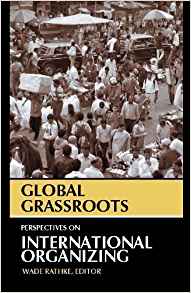 Global Grassroots: Perspectives on International Organizing. A compilation edited by ACORN founder, and Social Policy editor Wade Rathke. With essays from organizers new and old, Global Grassroots looks at the emerging consensus – and emerging differences – in the field of organizing. $19 (includes shipping)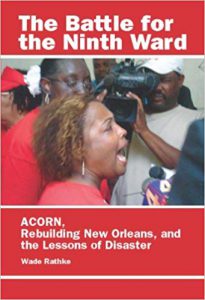 The Battle for the Ninth Ward: ACORN, the Rebuilding of New Orleans, and the Lessons of Disasters. In the aftermath of Hurricane Katrina, urban planners, pundits and corporate power-brokers wrote off the iconic Lower Ninth Ward of New Orleans as uninhabitable for its African-American community, who were denied the right of return to the homes they had lived in for generations. The Lower Ninth, the touchstone for every debate about the city's future, has become a unique example of success in a city still struggling to reconstruct itself. In this agenda-setting new book, Wade Rathke tells the story of this popular struggle against seemingly insurmountable odds, from the perspective of those at the heart of the fight to save New Orleans for its people. $24 (includes shipping)
Lessons from the Field: Organizing in Rural Communities. A new collection of essays by organizers, brought to you by Social Policy Magazine. Lessons from the Field captures the unique nature of organizing in rural communities, and outlines successful campaigns and strategies with national impact. The essays include hard-earned stories of reflection and experience from lifelong organizers while bringing together a diverse range of voices from across America to examine the challenges and opportunities for building progressive movements in the "red states." $14 (includes shipping).
Social Policy Magazine
For over 30 years, Social Policy has served as key site for intellectual exchange among progressive academics and activists from across the United States and beyond, including: Frances Fox Piven, Jonathan Kozol, Noam Chomsky, Marian Wright Edelman, Ivan Illich, Stanley Aronowitz, Michael Lerner, Gloria Steinem, and many more.
Now published by The Labor Neighbor Research and Training Center in cooperation with the Organizers' Forum, Social Policy reports on and analyzes contemporary movements for social change in the workplace, the community, and the world.
"It is time to call for justice with the rage of ancient prophets and in the manner of wise men and women long ago. We must make every organizing campaign a local referendum on human rights…"
Stewart Acuff,
Organizing Director,
AFL-CIO
Social Policy seeks to inform and report on the work of labor and community organizers who build union and constituency-based groups, run campaigns, and build movements for social justice, economic equality, and democratic participation in the U.S. and around the world.
INTERNATIONAL COVERAGE
Social Policy offers unparalleled coverage of globalization and international labor and social movements, from the role of the AFL-CIO in Venezuela, to land struggles in Brazil and Zimbabwe, to inside debates over the direction of social change in South African and Brazil.
ABOUT THE PUBLISHERS
The Labor Neighbor Research and Training Center provides research and training for community and labor organizations working in low and moderate income communities across the United States. The Organizers' Forum conducts Organizers' Dialogues, where experienced  organizers reflect on strategy, innovative tactics, and international social movements.
Masthead
Social Policy is published quarterly in Spring, Summer, Fall and Winter by the Labor Neighbor Research and Training Centre, in cooperation with the Organizers Forum. All Inquires Should be Addressed to:
Social Policy Magazine, 2221 St. Claude Avenue New Orleans, LA 70117
E-mail: publisher@socialpolicy.org
Phone: 504-302-1238
Editorial Advisory Group:
Noam Chomsky, Janice Fine, S.M. Miller, Peter Olney, Frances Fox Piven,  Heather Booth, Peter Dreier, Maya Wiley, Robert Fisher, Ashutosh Saxena.
Organizers' Forum Board:
John Calkins, Tho Thi Do, Mary Gonzales, Ken Johnson, Michael Kieschnick, Drummond Pike, Pat Sweeney, Mary Rowles, John Hyot, Gustavo Torres.